Tortuga Setout
Reviews
Based on 64 reviews from tortugabackpacks.com, amazon.com, blogs, and reddit.com.
Review Highlights
Great for travel
Simple aesthetic
Superb harness system
Slim design, can accommodate a 17" laptop
Prices
Video Reviews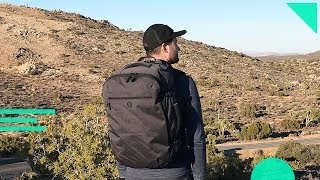 Tortuga Setout Review | 45L Travel Backpack (Maximum ...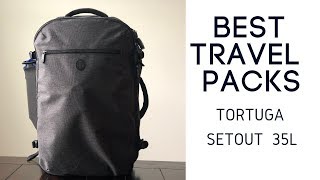 Best Travel Packs: Tortuga Setout 35L Carry On Backpack ...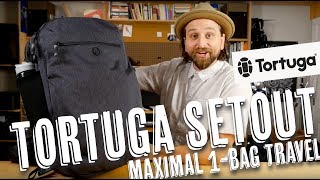 Tortuga Setout One Bag Travel Masterpiece!
Reddit Discussion
r/onebag • Posted by
u/MKE7
2 months ago
Carry-on backpack recommendations for max capacity
Positive
Seeking Recommendation/Help
r/onebag • Posted by
u/certainly_celery
2 months ago
Alternative for Tortuga Setout 40L (which is no longer for sale)?
Positive
Seeking Recommendation/Help
Reviews by Topic
Our analysis shows how reviewers feel about different topics.
4 lbs, the Tortuga Setout is also quite light for a durable globe-trotting carry on.  Tortuga only makes one bag travel and commuter bags, so they can concentrate all of their energy on making them world-class. The design and build of the Setout shows how proficient they have become in this pursuit since 2010. From the 3 main storage compartments for laptops, clothing, and small items, to the sleek and minimalistic design, there is little to complain about in the Setout
Laptop Size: 17" Organization 100% 100% Comfort 70% 70% Security 80% 80% Laptop Protection 80% 80% Weight 70% 70% Weight: 3.5lbs (1.6kg)
The shoulder straps are made of a rigid foam that'll get more comfortable with wear as they mold to your specific body.
A water bottle pocket. We're huge fans of water—everyone should be!—so we're glad that the Setout has a nice place to put a water bottle or thermos. The elastic on the top can make it challenging to squeeze bigger water bottles inside the pocket, but it holds them securely, which we think is a good trade-off.
The company markets the Tortuga Setout as a full-sized carry-on backpack. I'd say that at 45 liters, carry-on specifications are pushed to their limit, but the Tortuga Setout passes as a carry-on because it is not overly tall. (In fact, my 38-liter Gregory backpack is taller than the Tortuga Setout.)The squarish shape of the backpack makes it acceptable as a carry-on
Purchased the 45L Setout Backpack for my South West hiking trip. Was the perfect size for all my gear for my 6 day trip. Ample pockets, sturdy, and comfortable straps. Was able to move through airport crowds at ease and remove my laptop and electronics easily at TSA check in
Laptop Size: 15" Tortuga has been around since 2010 after their founders had a terrible experience traveling in Europe with standard backpacking backpacks meant for camping and mountaineering. They couldn't find the perfect travel bag, so they made one. Since then Tortuga has created a small but mighty line of great travel and commuter bags. The Tortuga Setout is an award-winning pack in their travel backpacks collection
Lots of pockets to keep things separate. The straps stow nicely away. Good zippers. Nice durable pack
I wore the pack a fair bit, as I had multiple ferries to get off and on, with long terminal walks, as well as four flights. Others with roll bags were envious. 3. I used three packing cubes from Shacke Pac, plus an Eagle Creek garment folder for shirts, two pairs of trousers, and two cocktail dresses--all fitted perfectly--and I over packed