Video Reviews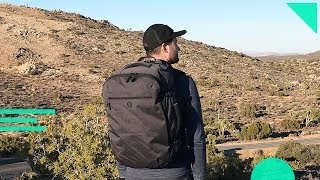 Tortuga Setout Review | 45L Travel Backpack (Maximum ...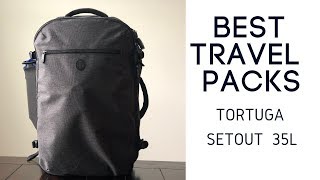 Best Travel Packs: Tortuga Setout 35L Carry On Backpack ...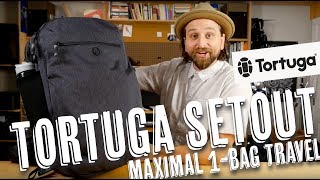 Tortuga Setout One Bag Travel Masterpiece!
Reviews by Topic
Our analysis shows how reviewers feel about different topics. Please note these are not full reviews.
"4 lbs, the Tortuga Setout is also quite light for a durable globe-trotting carry on.  Tortuga only makes one bag travel and commuter bags, so they can concentrate all of their energy on making them world-class. The design and build of the Setout shows how proficient they have become in this pursuit since 2010. From the 3 main storage compartments for laptops, clothing, and small items, to the sleek and minimalistic design, there is little to complain about in the Setout"
"Laptop Size: 17" Organization 100% 100% Comfort 70% 70% Security 80% 80% Laptop Protection 80% 80% Weight 70% 70% Weight: 3.5lbs (1.6kg)"
"The shoulder straps are made of a rigid foam that'll get more comfortable with wear as they mold to your specific body."
"A water bottle pocket. We're huge fans of water—everyone should be!—so we're glad that the Setout has a nice place to put a water bottle or thermos. The elastic on the top can make it challenging to squeeze bigger water bottles inside the pocket, but it holds them securely, which we think is a good trade-off."
"The company markets the Tortuga Setout as a full-sized carry-on backpack. I'd say that at 45 liters, carry-on specifications are pushed to their limit, but the Tortuga Setout passes as a carry-on because it is not overly tall. (In fact, my 38-liter Gregory backpack is taller than the Tortuga Setout.)The squarish shape of the backpack makes it acceptable as a carry-on"
Positive
thebrokebackpacker.com
"Purchased the 45L Setout Backpack for my South West hiking trip. Was the perfect size for all my gear for my 6 day trip. Ample pockets, sturdy, and comfortable straps. Was able to move through airport crowds at ease and remove my laptop and electronics easily at TSA check in"
Positive
Victor Y.
tortugabackpacks.com
"Laptop Size: 15" Tortuga has been around since 2010 after their founders had a terrible experience traveling in Europe with standard backpacking backpacks meant for camping and mountaineering. They couldn't find the perfect travel bag, so they made one. Since then Tortuga has created a small but mighty line of great travel and commuter bags. The Tortuga Setout is an award-winning pack in their travel backpacks collection"
"Lots of pockets to keep things separate. The straps stow nicely away. Good zippers. Nice durable pack"
Positive
Ward d.
tortugabackpacks.com
"I wore the pack a fair bit, as I had multiple ferries to get off and on, with long terminal walks, as well as four flights. Others with roll bags were envious. 3. I used three packing cubes from Shacke Pac, plus an Eagle Creek garment folder for shirts, two pairs of trousers, and two cocktail dresses--all fitted perfectly--and I over packed"
Positive
Kristen G.
tortugabackpacks.com