Peak design travel backpack 45l
Reviews
Based on 104 reviews from rei.com, amazon.com, peakdesign.com, blogs, and reddit.com.
Review Highlights
Great for photographers
Well thought out features
Good for travel
Durable materials
Not a good choice for photographers who want to carry more than 45L of gear
Prices
Video Reviews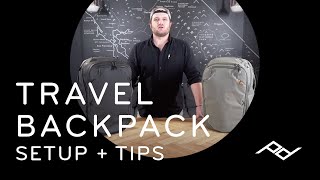 Peak Design Travel Backpack 45L: Setup + Tips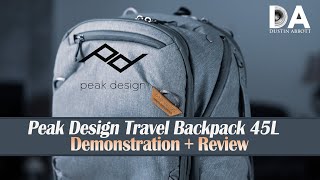 Peak Design Travel Backpack 45L Review | 4K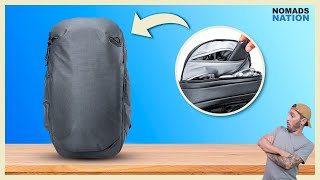 Peak Design Travel Backpack Review [2021 Guide]
Reddit Discussion
r/onebag • Posted by
u/tacologist1
4 months ago
Looking for suggestions of a backpack for short travel + tech stuff
Positive
Seeking Recommendation/Help
r/onebag • Posted by
u/Visualize_
5 months ago
Need bag recommendations for 3 weeks in Europe
Positive
Seeking Recommendation/Help
Reviews by Topic
Our analysis shows how reviewers feel about different topics.
. You'll probably have to take the bag off and fiddle with it a little bit. If you want see one of our favorite strap hiding systems, go check out the Evergoods MPL30. That thing offers really incredible ways to hide and manage excess straps
Peak Design is, first and foremost, a camera gear company that evolved into all things carry. They started up in 2010 in San Francisco when the founder, Peter Dering, got sick to death of awkwardly carrying around DSLRs while traveling. He started to tinker with some ideas to make packing options more versatile and to make moving around with cameras a more relaxed experience.
So you can access that main compartment through that front panel (and the separator, if you're using that) or you can also access it from the back of the bag, where the main compartment opens up. This is one area of the pack where Peak Design chose to use the Zoom zippers we mentioned in the beginning..
That said, the Peak Design Travel Backpack is a little bulky. I have heard a few people describe it as a time capsule. Different folks, different strokes.Comfortable—If you're not trying to carry a massive load, the Travel Backpack is pretty comfortable
1. My primary complaint is that the shoulder straps were not long enough. I have broad shoulders and I found that the hardware would dig into my armpits, especially under a full load.
I wish there was a water bladder compartment for hikes. This is a big miss for me!
Also not super impressed with the pockets. I feel they don't offer a lot of organization and don't have a lot of room to them especially compared to other bags I've seen. The front pocket could have definitely been bigger. The laptop pocket is also not that great and doesn't feel very comfortable against my back, especially if your waist straps aren't secured correctly
Peak Design's laptop compartment is located on the back panel and can be accessed by unzipping the main compartment by just a few inches. You can also unzip the backpack entirely and send the computer through security. See my photo above!There's ample space for pretty much any size laptop and a smaller pocket for an iPad, Kindle, or journal.This backpack has some of the most intuitive pockets I've used
Easy size for maneuvering on trains and buses and I brought a rain cover and never needed it as the fabric sheds water well.The padding allows the bag to keep its shape and yet the frame-less design tucks well into bins and allows smashing as needed. Works with other brand cubes/pack it pouches easily. This handled it all