MYSTERY RANCH Mission Rover Travel Pack
Reviews
Based on 90 reviews from moosejaw.com, huckberry.com, youtube.com, amazon.com, blogs, and backcountrygear.com.
Review Highlights
Great for overnight trips
Durable and well made
Well designed for organization
Comfortable to carry
Lightweight
Prices
Video Reviews
MYSTERY RANCH ROVER TRAVEL BACKPACK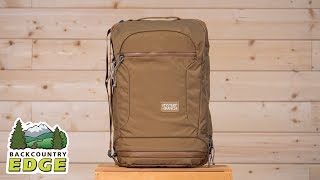 Mystery Ranch Mission Rover Travel Pack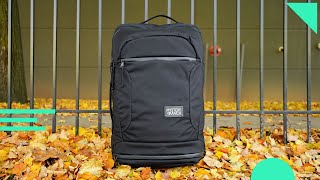 Mystery Ranch Mission Rover Review | Durable Carry-On Travel Backpack With Simple Organization
Reviews by Topic
Our analysis shows how reviewers feel about different topics.
I purchased this bag as an overnight/carry-on and it's well laid out design really exceeded my expectations. I had considered just making do with one of the smaller mission duffel bags, but the layout of the different compartments (laptop pouch, clam-shell dividers) really make this so much easier to stay organized. I have done my fair share of travelling with all sorts of different suitcases and bags, but the simplicity and ease of access this provides is far superior to any other solution I have tried. Given the versatility of having backpack straps and its size, I intend to use this for many other purposes (at work, camping, etc)
Very pleased with the functionality. The internal zippered compartments aid in organizing gear. Backpack straps are essential, and shoulder strap is nice for flexibility. Good size
However the backpack straps work great for long hauls. Such a great tool to stay organized on the road. I have been extremely satisfied with the purchase.
Lastly, the bag is just dimensionally too big for international travel. IMO, it should only be as wide as a pair of shoes and redesigning the top clamshell should shrink it just enough to be perfect!
The only qualm I have with it is I have a 15" Mac Laptop with a very thin case on it. I really have to push it into the laptop slot. If that could be just a 1/2" wider it would be great. I just feel like I am going to rip the stitching when I put it in there
I have been extremely satisfied with the purchase.
The sealant on zippers and fabric's water resistance keeps my suit and shoes good to go. Wouldn't recommend for heavy rain, but splashed mud and light stuff precipitation, no prob. Best feature is the self-contained "dirty laundry/shoes" compartment.
It's the mission. Rover travel pack by mystery ranch call us with your questions or visit our store at bat country. Edge com subscribe to stay tuned and follow us for the latest in outdoor gear. Great deals and trail knowledge we're the gear specialists at backcountry, edge, awesome gear, um using a service, see you on the trail, [ Music, ]
This is about 43 liters in capacity. The main compartments are accessed through a clamshell zippered opening these two big pockets make packing and organizing simple, and it means you can find what you need quickly. Id pack bulky items like jeans and sweaters here, while smaller items like socks and notebooks can be secured in these flat pockets. Dirty laundry or shoes can be stowed away from your clean stuff in this convenient outside pocket