Evergoods Civic Half Zip 22L
Review Analysis
Based on 47 reviews from evergoods.com, blogs, reddit.com, youtube.com, and buyforlife.com.
Review Summary
(AI-Written)
Great for everyday use
Durable and built to last
Comfortable for long days of travel
Well designed with thoughtful features
Aesthetically pleasing
Prices
Specs
Dimensions
18 x 11 x 8 inches
Video Reviews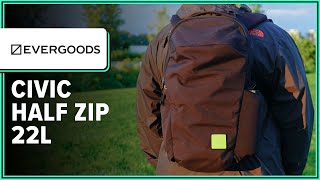 EVERGOODS Civic Half Zip 22L CHZ22 Review (1 Week of Use)
Pack Hacker Quick Hits
Neutral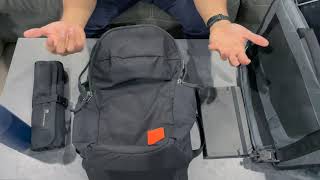 Evergoods Civic Half Zip 22L - Long Term Review [2021]
Reddit Discussion
r/onebag • Posted by
u/foofad
9 months ago
Evergoods Civic 26L - the perfect 30-liter day/travel crossover?
Looking for bag suggestions: 25~ to 30~ liter day/travel crossovers
Neutral
Seeking Recommendation/Help
Reviews by Topic
Our analysis shows how reviewers feel about different topics. Please note these are not full reviews.
"The durability is unmatched, and it has a quality feel in the hands and while in use. Only complaint is the back panel does not allow for much airflow, but I am a heavy-sweater and there is no solution for this with any bag (airflow only delays the inevitable swamp back for a few minutes), so its a minor complaint, and the comfort of use outweighs this one complaint (and honestly, I prefer the CHZ back panel the way it is as it reflect the robust quality of the overall bag; it would look weird if it was plush there with some padding or airflow design). The CHZ22 has been used in scorching heat and freezing cold, and has not let me down a single time. A bag built for life for sure!"
Positive
Taylor
evergoods.com
"I've put colored tape on the pull tab to automatically reach for the right one, but maybe that could be an option to have the main body zip be a different color or material. The only other thing I've noticed is that being black, it picks up and shows any light dirt or dried mud. When I put in on the floor of my car and my son kicks it, it leaves a lot of light marks. Other than those two minor bits, I love this thing"
"Anyway, I don't really write reviews, but felt it was necessary. Don't hesitate to buy if you are looking for something for work or a carry-on."
Positive
Vito
evergoods.com
"When the straps are in place, the bag curves in a slight C shape against my back, due to the plastic panel within the bag. It's extremely hard to get the bag to flush and rest properly on my back unless I fully tighten the front straps, which then makes it uncomfortable along the shoulders and armpits."
"And the second thing is the laptop compartment. Again I don't know how this would be done, but if somehow the taco pocket could be moved out of the way of the laptop pocket. The only way i could think that could be done is adding a small laptop compartment like the cpl. It would be so cool like a hybrid of the mpl and the cpl- and it could be called the hpl (hybrid panel loader) hahah"
Positive
Dominic
evergoods.com
"This one's only drawback might be that overfilling it will make the laptop sleeve hard to reach but then I haven't even carried a laptop more than a couple times since the pandemic began, your mileage may vary. Otherwise the key leash and excellent interior mesh quality make this great."
"I appreciate the fact I could use this as an EDC then add a water bladder for any of your small hikes. I do recommend."