Patagonia Atom Sling
Reviews
Based on 102 reviews from rei.com, amazon.com, youtube.com, and blogs.
Review Highlights
It easily fits a rain jacket and
Smaller pocket can hold hand sanitizer and a mid-size phone
Prices
Video Reviews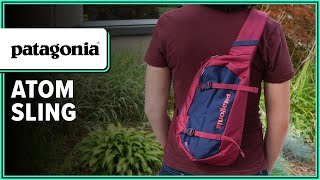 Patagonia Atom Sling Review (Product Overview)
Pack Hacker Reviews
Positive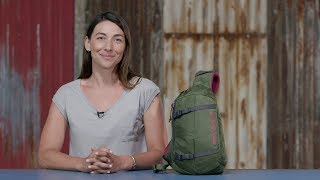 Patagonia Atom Sling 8L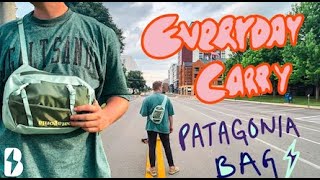 Patagonia Atom 8L Everyday Sling Bag Testing/Impressions/Review
Reviews by Topic
Our analysis shows how reviewers feel about different topics.
One of the best parts about this sling bag—and what sets it apart from the crowd—is its comfortable carry. There have been multiple times we've forgotten we've had it on. Seriously.
This is the updated design of the Atom Sling, so be warned, there is only the single strap to the harness, no secondary strap to keep the bag snug to your frame as on older models.
I absolutely love this backpack. I always take it with me on hikes and its the perfect size to carry everything I need. I Love all the color options. I also love the little pocket on the strap its perfect for sunglasses or throwing your keys in it
storing layers not needed as the day warms up, or carrying those layers on a day when the temperature will drop later ... alongside my other essentials
Not a laptop bag, not a briefcase, not a purse...THIS BAG
I had my Insta360 camera, 34oz platypus soft water bottle, some granola bars, sunscreen, keys and of course my iPhone. It did not dig into my shoulders like other sling bags. I love its size and will most likely use it for day trips and other adventures.
We've been testing the Patagonia Atom Sling for a little over two weeks as a daily driver in Detroit, Michigan. As you'd hope after only two weeks, we have no durability issues to report. Everything is looking good—no marks, pilling, scratches, anything like that.
For me it's like a nice sized purse. My one issue is that the zipper is really sticky. It won't zip closed smoothly. There needs to be a tab and the spot where the zipper begins so you can pull from both directions for smooth closure
That's the big central one, which is split into two for kind of laptop and then everything else and there's a little pocket on the top here as well. Now you don't want to put too much stuff in the top, because it does kind of weigh down the rest of the bag and make it look a bit awkward but yeah for the old thing it's good to put in it. I definitely rate this bag. In terms of its storage, you can get a massive amount in here, which is really good