MYSTERY RANCH Urban Assault 21 Pack
Review Analysis
Based on 71 reviews from moosejaw.com, rei.com, youtube.com, blackovis.com, and blogs.
Specs
Dimensions
23 x 13.5 x 10 inches
Video Reviews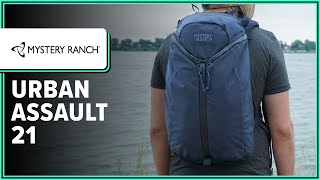 Mystery Ranch Urban Assault 21 Review (1 Month of Use)
Pack Hacker Reviews
Negative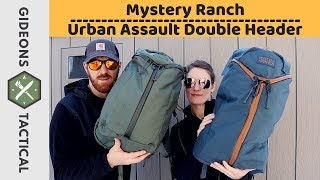 Urban Assault 21L vs. 24L Mystery Ranch Backpacks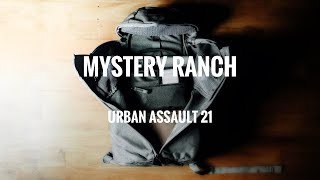 Mystery Ranch Urban Assault 21 Review (And Comparison to the GORUCK GR1 21L) - Epic Daily Carry bag!
Reddit Discussion
r/onebag • Posted by
u/cromartiearm
1 year ago
Urban Assault vs. Peak Design Travel
Suggestions for an EDC/Travel Bag
Neutral
Seeking Recommendation/Help
Reviews by Topic
Our analysis shows how reviewers feel about different topics. Please note these are not full reviews.
"What I don't like: 1. The zippers start to open themselves and create a large hole where the three of them come together as soon as I put it on. 2. I can not get this to adjust and fit me correctly for the life of me, everything in the pack end up flapping against my back with every step (a problem I have never encountered with any pack before)"
Negative
jackie27
moosejaw.com
"2. The laptop compartment is not wide enough for A4 paper, however, it is big enough for me, it will fit my XPS 15."
Positive
Kevin
moosejaw.com
"Keep in mind this is a small/simple backpack, I would not recommend for any kind of serious outdooring. Great for a quick load up to head out for a trip though."
Negative
TyWalt
moosejaw.com
"Great pack bulletproof design for me I wish the organizer pockets on the inside were a little bit larger"
Positive
Trevor
moosejaw.com
"Got this in the eggplant colour for lugging my laptop, running shoes, gym gear and toiletries from home to office to gym and home 5 times a week. I wear this with my professional clothes (I'm a solicitor) and low-heeled pumps. (I value function over fashion when "on duty".) I only keep "duffel" style backpacks so that I can get to bottom of the pack without taking everything out"
Positive
CeruleanPeonies
moosejaw.com
"The shoulder straps also have load lifters which seem to provide unnecessary bulk and weight to a pack set on being as clean as possible. Given the shoulder straps insert at the top, the pack's body cannot be "hugged" any closer to the wearer's center of gravity. This makes the load lifters more of an eyesore than a utility."
Negative
ofamountain
moosejaw.com
"Our only note here is that if you do pack this compartment to the brim—whether it's with free-floating gear or individual packing cubes—it's going to impede your access to the laptop and tablet velcro strap against the back wall. Because of this, you may need to take things in and out each time to reach your tech. In these cases, we've just kept the strap unfastened for easier access. It's not a deal-breaker for us, but it's something worth noting"
"I bought this bag about a month ago now to use as a day-hiking bag but have started using it for everything. I chose the lemon color since I wanted something visible and it definitely fits the bill. It has a minimal form factor as there is very little on the outside."
Positive
xanderjman
moosejaw.com
"Everything in the bag is visible from the main compartment. Makes it easy to turn the dog hike bag into a quick overnight bag or picnic with the missus bag without having to worry about which pocket you put the bug spray in. Super comfortable and I have done a couple of 4+ hour hikes with it on in the Texas heat. Breaths well (not great but not bad at all), shoulder straps are very comfortable for long stretches and phenomenal build quality"
Positive
TyWalt
moosejaw.com
"I mean it would be awesome, let's be honest, i mean i don't think they expect you to use it very often but yeah. Basically, what i do is i use one of these guys, which is from a company called ashina here in korea. They make other tactical kind of travel bags, but um. This is like a dollar two dollars, and it just wraps around here and holds it in place and makes it a little bit more comfortable to hold wish the color was different, but you know what comfort over color blah blah blah two bucks velcro it on you're"
Positive
Jtinseoul
youtube.com