Mindshift FIRSTLIGHT® 30L
Review Analysis
Based on 27 reviews from thinktankphoto.com, amazon.com, and blogs.
Review Summary
(AI-Written)
Great for carrying a lot of gear
Well thought out and customizable in torso length
Durable construction
Comfortable, clever features  and great for outdoor activities
MindShift FirstLight 30L is a great all-around camera bag
Prices
Video Reviews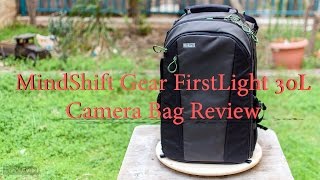 MindShift FirstLight 30L Camera Bag Review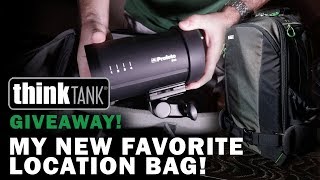 Mindshift Firstlight 30L by Think Tank | Best location backpack!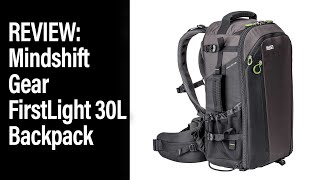 Mindshift Gear FirstLight 30L - Review and Tour
Reviews by Topic
Our analysis shows how reviewers feel about different topics. Please note these are not full reviews.
"It seems it is actually a cat bed with adjustable back straps attached. Maybe they should have included a window. The Mindshift First Light 30L back straps come with built-in chest and waist straps for secure carrying and weight distribution. The Mindshift FirstLight is a very comfortable bag to wear; the padding is thick and soft both on the back, shoulder, and large waist straps"
"The laptop/tablet pouches are on the front flap of the FirstLight, which lacks the padding of the interior of the bag, so it's a good idea to be careful when unzipping and lowering the front flap when loaded with computer gear. If I were planning to take a MacBook Pro into the field, I'd opt for a bag with better computer compartment padding, but my laptop and tablet usually stay in my hotel room when I'm on an outdoor shoot."
Neutral
digitalphotopro.com
"You might be able to fit one or two extra lenses into the Backlight 36L compared to the 30L Firstlight, but in either case, you may already be well past your own personal standard of comfort if the bag is totally crammed full of heavy gear. In other words, you can easily fit 40+ lbs (18+ kg) worth of gear into either of these backpacks, so unless you're in pretty good shape (do yoga, lift weights, etc), you may be hurting after a long day of hiking with either backpack fully loaded."
"The straps on the bag are incredibly comfortable, with generous waist straps, comfortable chest straps and (a nice touch) a height-adjustable strap system that makes the bag adjustable to users of different heights. At 5.42 pounds unloaded, the bag isn't superlight but not heavy, either, and is durable enough to protect expensive gear."
Positive
digitalphotopro.com
"One last con: The Backlight's main compartment zipper seems to catch on its own buffer material quite often, requiring much more attention when opening or closing the backpack."
"I figured it would be a good way for you to gauge what size you may need, whether it be more or less. I had pictured that I would use this bag for a weekend away from home, where I could load it up with a change of clothes, my Sony A7iii, laptop, Mavic Pro, and all the other bits and pieces that go with those. But what I discovered is that I could fit a lot more than just that. Instead, I could pretty much carry everything camera related that I owned – and also attach my tripods on the outside in 3 different ways! Two full length front pockets for books, documents, or for storing a laptop (up to 15″) Exterior Dimensions (W x H x D): 30"
"The biggest difference is how they open to their main compartment. The Backlight backpack opens on the side that is closest to your back, hence the name. The Firstlight series opens on the other, outer side, meaning you'll have to take the backpack off and lay it down in order to access your gear."