Tortuga Outbreaker Daypack
Reviews
Based on 48 reviews from tortugabackpacks.com, blogs, youtube.com, and reddit.com.
Review Highlights
Great for travel
Durable and waterproof
Minimal, sleek design
Comfortable straps
Well designed pockets and organization
Prices
Video Reviews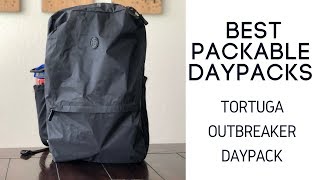 Best Packable Daypacks: Tortuga Outbreaker Daypack Review
Traveling Salseros
Negative
REVIEW: Tortuga Outbreaker Daypack - The Best Daypack For Travel!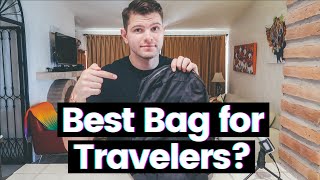 BEST DAILY BACKPACK FOR DIGITAL NOMADS | Tortuga Outbreaker Daypack 21L Review
Reddit Discussion
r/onebag • Posted by
u/benjamingolub
2 years ago
Best lay flat, comfortable, packable bag to pair with Peak Design Travel Backpack?
Positive
Seeking Recommendation/Help
r/onebag • Posted by
u/elkodust
2 years ago
Tom Bihn Daylight Travel Bag or Tortuga Outbreaker Daypack?
Tom Bihn Daylight Backpack or Tortuga Outbreaker Daypack?
Positive
Seeking Recommendation/Help
Reviews by Topic
Our analysis shows how reviewers feel about different topics.
I have yet to fill all of the pockets. Very comfortable to wear (female 5'3).
The laptop compartment is well designed, very simple but it keeps the computer from banging the ground. I lost one to that previously in my other bag. I padded the bottom of that compartment with a small towel, but it is not really needed.
Day pack is great overall. Would only fix the straps that appear to be slightly uneven on the hearnest
This professional backpack is the perfect to fit in your big pack as it folds perfectly flat yet you get the quality of a premium back back when you get here you are going.
Side pockets great for water and umbrella. The whole pack is compact and fits on your lap or by your feet on busy city commutes. Small front pocket ok but I do miss the small concealed pocket near top on last model. Comfort 10/10 and can get away with taking it to work meetings and not looking like you're about to go for a hike!
So I really love when, when bag makers really keep that in mind, it's so important to be able to put the bag down without having the laptop strike the ground. So really like how that's elevated, I really like how wide the pocket is, as I mentioned with the tablet compartment - it's not very rigid, so it doesn't actually have a lot of padding here on the front and it doesn't have any sort of microfiber lining to help Prevent against scratching so you know, the majority of the protection on the laptop compartment comes from the fact that the compartment is elevated and also from the protection provided by the back paneling. So because, as we mentioned, when we were going over the back panel, it's very rigid that that protection extends to the laptop. So you know the backside of a laptop compartment
Positive
Traveling Salseros
It worked perfectly for that you, so you can definitely fit a you know, a stuffed cube or a packing cube in here uh, if you're not bringing a whole bunch of tech stuff with you. So because of that, i love how big this main compartment is. You can just kind of like stick a whole bunch of things in there and you're good to go uh, but the backpack in itself isn't so big that it's a problem for daily carry. I really think that this 21 liter size is perfect, because maybe you don't need that all the time you know, if i'm only bringing my laptop and a few small tech things with me uh, i don't really need a huge backpack, but it is nice that there Is this available space there for you in case, i don't know you want to take your jacket off and stuff it in there or like today
So if you're planning on taking this thing for a hike or something like that, you're gon na have to use two small, the back. As you can see it's padded. They have these nice really breathable and padded straps. The the buckle Clips is a center chest