Topo Designs Travel Bag - 30L
Reviews
Based on 13 reviews from youtube.com and blogs.
Review Highlights
Made for travel
Water resistant
Lightweight
Comfortable straps and back padding
Easy to carry with a handle or shoulder strap
Prices
Video Reviews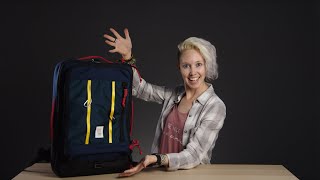 The perfect bag for travel? Review: Topo Designs 30L Travel Bag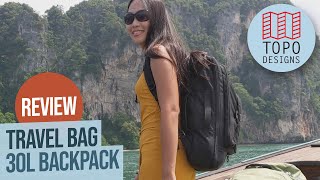 TOPO Designs 30L Travel Bag Review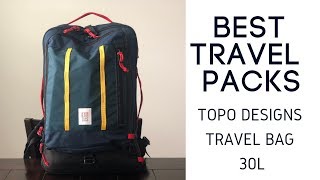 Best Travel Packs: Topo Designs 30L Travel Bag Review
Traveling Salseros
Positive
Reddit Discussion
r/onebag • Posted by
u/mirukitty
6 months ago
Haven't done it yet but my husband and I are planning to travel to Japan for 3 months with our two young children, with one 20L-30L max bag for each adult. We prefer to slow-travel and have a lot of days to just chill out, especially because we don't want to burnout our kids (or ourselves) with all the moving around cities, and also because staying longer in each place makes the experience more meaningful for us. Our plan, right now, looks like this (I think in terms of "nights" instead of "days" because it helps me to book the hotels): 1. Chiba - 20 nights (a lot of time for us to get used to the 12 hour jet lag without thinking we need to hurry up to enjoy the city) 2. Camping (actually, glamping) in Chiba - 2 nights 3. Tokyo - 14 nights (we thought of skipping Tokyo altogether because we've been there a few times already - which is the reason why there are no other "traditional" cities here like Osaka and Kyoto - but it's just a very convenient place to travel to/from, and we don't want to spend more than 2h30 going to the next city with the kids) 4. Hakone - 5 nights 5. Yamanashi - 10 nights 6. Lake Biwa - 5 nights 7. Kobe - 14 nights 8. Kurashiki - 5 nights 9. Fukuoka - 14 nights The idea is to take turns between longer periods in bigger cities (10-20 nights) with shorter periods in small cities (5 nights). We think this will give us a nice variety of experiences while also giving us some time to feel a bit more stable and rooted in some bigger cities, while also able to slowly enjoy each small city.
r/ManyBaggers • Posted by
u/hirnfleisch
1 year ago
i´ve recently bought a Travel Bag 30L and the Trip bag. I really like how you can attach the Trip Bag to the Travel bag to have some additional capacity and a bag "ready to go" to explore the city.
Reviews by Topic
Our analysis shows how reviewers feel about different topics.
In this review, we're taking a look at the Topo Designs travel bag. This is a 30 or 40-liter backpack—depending on which size you choose, we've got the 40-liter variant—and it's got a lot of unique stuff going on. As a brand, Topo Designs has a pretty solid track record of creating backpacks and other gear that has a vintage, heritage-style look. The kicker is that, although their stuff has an old school look and feel, it's all generally decked out with top-notch materials and awesome features
We've found these to be great for socks, underwear, or any other flatter, smaller items that you want to compartmentalize. And there's one sneaky thing on the back—there is a zipper under these pockets that opens up this entire area, offering a separate compartment that is super handy. You can use this for added organization, but if you don't want to use it—no worries. You won't be sacrificing any space by not using it
advertised as being large enough to fit most 15" laptops. I found this to be
Popping your laptop into the dedicated compartment can improve this a bit, but we still feel like it could have been handled better. It makes this pack feel more like "a bag that you can carry on your back," as opposed to a true backpack.
There are strap keepers on the hip belt to manage the excess dangling straps, however, you will not find strap keepers on the shoulder strap adjusters. Kind of a bummer, seems like it would have been an easy fix for Topo to add those in, but it's not a huge deal.
. If you slip the zipper under here, it makes them much more difficult to open without you noticing.. However, I did find it a little bit difficult to push the zippers into this area, and so I didn't really use this very much
I only brought one pair of shoes, which I deeply regretted because they were less than comfortable after the first full day of walking around the convention center, but I made my bed, so I had to lay in it. And unfortunately, despite my best efforts, my flattery and ultra-friendly personality did not score me a free pair of sandals at the Crocs booth. What are you gonna do? Did I mention I broke my toe the first day we were there so walking/my narrow approach shoes were even more miserable?
They can detach here at the bottom and hide it into zipper. Stovall pocket. The travel back comes in two options. You can go at the thirty liter or pump it up to the big one with the forty [ Music ] [, Music ]
That is big enough for books, notebooks magazines. Here we have the main compartment and, as you can see, that you shape design makes it really easy to access the inside of it big, open compartment, and then we also, we have two mesh pockets to keep everything else. Organized the other really cool feature of the travel bag is, it has a dedicated laptop compartment. You can fit up to the most 15-inch laptops here