Swiss gear 1900
Review Analysis
Based on 194 reviews from swissgear.com, target.com, amazon.com, dell.com, and blogs.
Video Reviews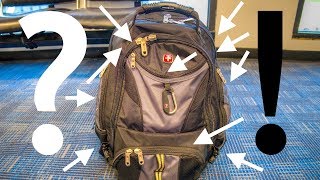 SwissGear 1900 Backpack Review: Such A Thing As TOO ...
Filling the Pockets & Compartments of the SWISSGEAR 1900 ...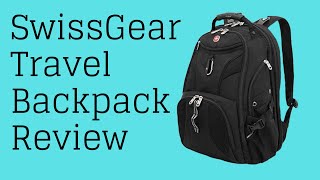 SwissGear Travel ScanSmart Backpack 1900 Review Full of ...
Reviews by Topic
Our analysis shows how reviewers feel about different topics. Please note these are not full reviews.
"Another thing to note about the 1923 is that its laptop compartment actually opens on the side. Because of this, it might be a little more difficult to get out your laptop, especially if it's a 15.6" one. Size & Materials The Swiss Gear 1900 is made of 1200D ballistic polyester"
Positive
expertworldtravel.com
"Sturdy zippers. and latches. Easy access to multiple front pockets. Lugged around my laptop and multiple hard drives/cables and other items in this for years"
"Check for any safety features. This is especially important if you do a great deal of traveling with your trusty pack. If the bag has a lockable zipper, review the product tag to see if the lock comes with the bag, or whether you are required to purchase it separately. It's also important that the bag has an anti-puncture feature so that a knife or pair of scissors can't be used to open the pack"
Positive
dontwasteyourmoney.com
"I just bought this backpack for returning to work travel, but the inside pockets/laptop area does NOT look the same as pictured on the website. There are two different configurations pictured, if you look closely, neither of which are the same as the bag received. The first configuration, which was the photo that lured me into the purchase, shows a mesh cover for the laptop that zips all around. The second photo of the same compartment shows just a wide band with velcro closure, but also a pocket for a phone or portable charging back and red-trimmed breathable spaces on the opposite side"
"The bag has a good number of compartments. Moreover, it has a detachable key ring in the outermost pocket, which some people look for. It is also comfortable on your back and well-made zippers and pockets. You will find the long-lasting weatherproof 1200D ballistic polyester handy, especially if you are economic-minded"
Positive
dontwasteyourmoney.com
"So far the backpack feels comfortable (from the padding on the shoulders to the back padding). It has various compartments that allows the user to organize their materials."
Positive
Spartan
target.com
"Look over the size and number of compartments within the pack. Do you need to fit a laptop, cell phone, multiple textbooks or an extra set of clothes? Perhaps you'd also like a side pocket for a water bottle or a front pouch to hold your pens and pencils."
Positive
dontwasteyourmoney.com
"Well, putting the strap in, it feels like the velcro is on the wrong side of the strap; perhaps this is some ergonomic choice so it is easier to pull apart, but I'm not a fan of it, regardless. The pictures I posted show what I mean more clearly."
Negative
CJnP
swissgear.com