Review Summary
(AI-Written)
Great for a working professional
Sleek, stylish, spacious
Light weight and durable
Plenty of space for a laptop and other items
Easy to open/close outside hook
Prices
Specs
Dimensions
18.5 x 11 x 4 inches
Video Reviews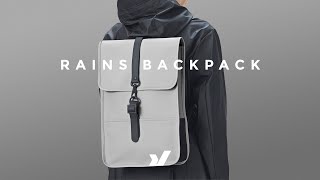 Sleek Backpack With Minimalist Aesthetic - The Rains Backpack & Backpack Mini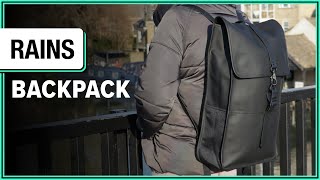 Rains Backpack Review (3 Weeks of Use)
Pack Hacker Reviews
Positive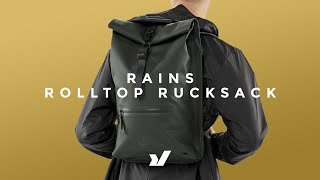 Ideal For Cyclists - The Rains Rolltop Rucksack
Reviews by Topic
Our analysis shows how reviewers feel about different topics. Please note these are not full reviews.
"I am 5"5 and use the smallest adjustment for the straps. Caution to those who are shorter than 5"3"
"Our experience with the harness system wasn't the most comfortable—especially when the bag was heavily loaded. The thin straps offered no cushion and dug into our shoulders, making it tiresome to carry for long periods. Plus, the shoulder straps took time to re-adjust, requiring us to take off the entire pack whenever we needed to—a problem we seldom encountered in other backpacks with more typical strap adjusters."
"We walk away from the Rains Backpack with a few key take-aways, not least of which are the less-than-ideal shoulder straps and its fiddly adjustment, the subpar internal visibility for this black variant, and the interior pocket's zipper that was prone to jamming. It's not all bad, though, as we still think that the styling's appeal still holds up."
"But the design is not feature oriented. The laptop is not supper protective and there are limited storage options. I think it is worth the money considering the 300$ bags out there."
Positive
Adrian Hernandez
amazon.com
"The brawny Patagonia Black Hole Pack 25L had more interior pockets than the company's Arbor Classic, as well as plenty of space, and its weather-resistant coating stood up to a midafternoon rainstorm in Cambodia. However, its brawniness was also its downfall as a commuter bag: Unlike with the Arbor Classic, with the Black Hole bag you can't really reduce its bulky footprint, no matter what's inside."
"This is my 13 inch MacBook Pro retina. It fits in there. Fine, it's important to note that this laptop compartment is lightly padded and it is suspended from the bottom of the back. So there is a bit of impact protection in the case that you accidentally drop this bag"
Positive
Rushfaster
youtube.com
"Who it's for: This bag is a roomy choice if you have a large amount of stuff you need throughout the day but don't want to be limited by internal dividers or organization."
"So, on the top here is another quick access pocket and i've really struggled with the zipper it seems to get stuck facing one way. Sometimes i have to kind of pull it to get round which is really irritating. Let'S try it again, especially when you're um trying to access something quickly, which is what this pocket is handy for as soon as we don't have much quick access on the outside of the pack. So i've used this for the items that i want to get hold of quickly smaller items that i want to keep track of, and it is handy being right at the top of this bag here so that i don't have to dig around inside"
Negative
Pack Hacker Reviews
youtube.com
"I think it is worth the money considering the 300$ bags out there."
Positive
Adrian Hernandez
amazon.com