Osprey Tropos 34L Daypack - Men's
Review Analysis
Based on 96 reviews from amazon.com, moosejaw.com, rei.com, youtube.com, osprey.com, mec.ca, and blogs.
Review Summary
(AI-Written)
Great for school, commuting, or hiking
Compression straps make it small or large
Is durable and water resistant
Kickstand for when riding the bus or train
Water bottle holder
Prices
Specs
Dimensions
21 x 13 x 11 inches
Video Reviews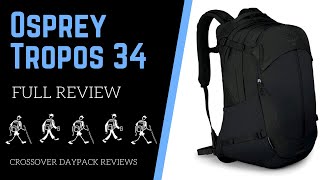 Osprey Tropos 34L Full Review
Crossover Daypack Reviews
Negative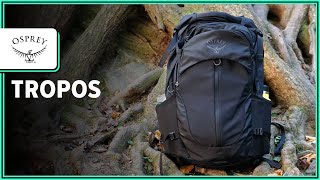 Osprey Tropos Review (2 Weeks of Use)
Pack Hacker Reviews
Negative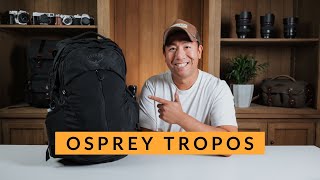 Osprey Tropos 2020 Review
Reviews by Topic
Our analysis shows how reviewers feel about different topics. Please note these are not full reviews.
"From the back to the front, closest to the back is your laptop compartment. The area is very adequately padded and I would feel safe just having my laptop in there. I have an HP ZBook that is 15.6 inches and I keep it in its sleeve, and then I stick the whole sleeve in the pocket, and it holds snugly"
Positive
Pyraxias
moosejaw.com
"Perfect for hotter weather day trips. Very comfortable. A bit larger than is needed for a day to day backpack but perfect for longer travel or a day trip with the family in tow."
"I have owned an osprey travel bag (porter 46) for many years, and I wanted to get a backpack that was more school/commuter focused. I am an architecture student in college and I carry a TON of stuff every day. One of my favorite things about osprey products is their all mighty guarantee, which is a massive bonus comparing to other brands."
Positive
Pyraxias
moosejaw.com
"I love the suspended back that allows for air-flow! This will be my go-to backpack for daily use and I look forward to using it on summer vacations to Disney and the like!"
Positive
Rich GrY
moosejaw.com
"To address the guy who said the kickstand didn't work, it's because you didn't think to adjust the straps. I had that problem for a couple minutes and was disappointed until I adjusted the straps at the bottom of the pack that cinch everything together. After I adjusted the straps, the kickstand has worked every single time, even when I stuff this thing full (a rare occasion). All in all, I can't recommend this product enough"
Positive
Travis
moosejaw.com
"5inch binders in that pocket, and then there was enough room on top of the binders to easily fit a extra set of clothes or shoes or whatever you need. The next pocket is a small soft material for technology (phone pocket pretty much), I have a galaxy note8 and that thing is BIG and it fits fine. So it should fit just about any phone. The next compartment is what I call my OCD pocket because its got 3 elastic pouches, and a zipper pocket, so I can organize that pocket like nobody's business"
Positive
Pyraxias
moosejaw.com
"This backpack has 32L volume, but it looks and feels like a LOT more than that - which could be a good thing depending on your needs. I have a 32L JanSport bag, and the Osprey Tropos was significantly larger in height, width, and depth. I am around 5'10" and when I put the Tropos on, it looked enormous (more like a hiking backpack than a work/school bag). I was looking for something that I could bring into the office and fill with regular stuff like books, lunchbox, laptop, etc"
Positive
Michael N.
amazon.com
"Just like it said urban to trail. Hard to pack for overnight trips but not sure if it intended for that. But it can do it."
"1. The outside pocket only has a single zipper slider instead of double, it's a bit inconvenient to reach since the zipper runs always halfway down the side of the bag. Please add double zippers back. (I've added some instant zipper sliders to remedy this myself) 2"
Negative
L. Yeung
amazon.com