Osprey Porter 65 Travel Pack
Review Analysis
Based on 41 reviews from amazon.com, youtube.com, moosejaw.com, and blogs.
Review Summary
(AI-Written)
Great for travel
Lots of pockets
Very comfortable
Good for carrying a full uniform and more
Fits in an overhead bin on a plane
Prices
Specs
Dimensions
24 x 15 x 10 inches
Video Reviews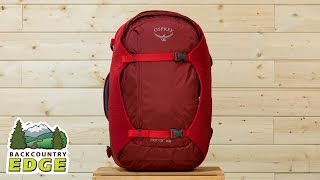 Osprey Porter 65 Travel Pack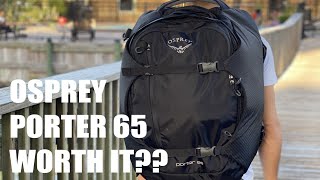 A Review: The Osprey Porter 65 Liter Travel Backpack (Black)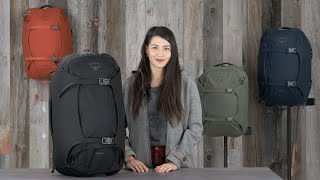 Osprey Packs | Porter Series | Product Tour
Reddit Discussion
r/onebag • Posted by
u/chowder138
2 years ago
Advice for my first onebag trip
First onebag trip: 3 weeks in Japan, mid-December to early January
r/onebag • Posted by
u/Deosneos
1 year ago
Osprey Porter 46: Ideal for the heavy packer?
Osprey Porter 46
Positive
Seeking Recommendation/Help
r/onebag • Posted by
u/GeoffMeetsWorld
2 years ago
How to Pack the Osprey Porter 46
How to Pack the Osprey Porter 46
Reviews by Topic
Our analysis shows how reviewers feel about different topics. Please note these are not full reviews.
"I'm a guy who doesn't need a ton but likes to be prepared for whatever. Pros: -Daylite bags lash to the front securely -separate shoe pocket on bottom -large front organizer pocket -thick stowaway shoulder, sternum and hip straps -tie downs in main compartment -full length side zip pocket in main -two kinda hidden flat pockets on back -compression straps No cons Highly recommended!"
Positive
Zach the Outdoor Addict
moosejaw.com
"I am in the military and travel often on trips averaging about a week in length. I wanted a pack that was big enough to carry a full uniform (including boots) plus a week of civilian clothes as a carry on, something that packs in the 40-45 liter ballpark can't do. This bag fits the bill. It has a tremendous amount of space and a very large amount of individual compartments to keep your gear organized, but will still fit in the overhead compartment of most larger aircraft"
"He wasn't nuts about the hip straps as they had no padding, just a nylon strap that buckled around the waist. He didn't make a big deal about it, but I noted he wasn't crazy about that part."
Negative
divergenttravelers.com
"The compartments are well thought out for ease and simplicity. At the lower end there's a zippered compartment best suited perhaps for shoes making it easy to shift into or out of trekking mode without disturbing any other stored contents. Same for a compartment best suited for your laptop as well as another for books. There are smaller compartments as well being useful without being overly confusing or overwhelming as too many pockets I find can make things harder to locate"
Positive
Hyytekk
amazon.com
"Katahdin at the northern end of the Appalachian Trail. (Wore a Osprey Manta 20 AG for the hike) I packed the Porter with a one person and a three person tent (poles, rain fly and footprints as well), 1100ml cook system, go pro, headlight, flashlights, phone, backup battery, clothes for three days, trail shoes, three lbs of food, rain jacket, wind breaker, toiletries, 10 total AA and AAA batteries. Inside it could still fit more too!! Outside I strapped a small collapsible table under the compression straps. My pack was REALLY heavy but once on, it carried very well and comfortable for 1/8 mile I wore it"
Positive
Zach the Outdoor Addict
moosejaw.com
"It is primarily a piece of luggage or a computer commuter bag. Very well made it comes in 3 sizes this is the largest. little to big for my wife."
Positive
Howard Matthews
amazon.com
"This is a great way to keep your computer in an easily accessible area, while also maintaining its security. It also doubles as a bit of a framing aspect. If you have your computer they're, the large main u-shaped zipper is also lockable, and I really like the fact that the design of this pack almost keeps the zipper hidden. It maintains a nice sleek appearance and acts as kind of a deterrent for those would-be pickpockets"
Positive
Enwild
youtube.com
"One might not notice, but having purchased two of these previously since 2017, I noticed. It's always a disappointment when a manufacturer downgrades quality on a beloved product (& continues to charge the same price). Another part of the new design that I don't like is the laptop compartment. It takes up valuable space"
Negative
mdmom2013
amazon.com
"Very comfortable and well made. This bag has plenty of space to carry everything I need as a skydiving gear bag. I use it when I travel because it fits my parachute and gear needed and still fits in an overhead bin on a plane as a carry on. The sides are thick and sturdy to protect everything packed inside"
Positive
Skydive2018
amazon.com