Osprey Katari 3 Hydration Pack
Review Analysis
Based on 44 reviews from amazon.com, youtube.com, moosejaw.com, and blogs.
Specs
Dimensions
16 x 8 x 6 inches
Video Reviews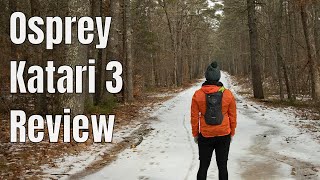 Osprey Katari 3 Review | Hiking VLOG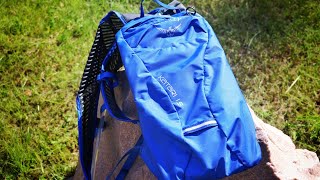 Osprey Katari 1.5 Hydration Pack Review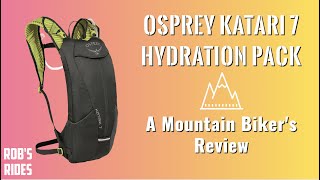 BEST Small Hydration Pack | Osprey Katari 7 [Review]
Reviews by Topic
Our analysis shows how reviewers feel about different topics. Please note these are not full reviews.
"The adjustable chest strap with magnetic clasps is convenient as well. I love this pack and am very happy with this purchase!"
Positive
PNW Hiker
moosejaw.com
"Hydration pack carries two liters of water, is compact and very easy to use. Hasn't started leaking after a few uses, which is a plus over our last one! So far, so good!"
Positive
certikova
moosejaw.com
"The mesh pockets can carry gloves or a highly compactable shell, but any normal mid-layer would be a squeeze. A neatly bundled tube will fit in the mesh pocket but there's a size limit- my spare 2.4-2.8" x 27"
"They have better colors. I wasn't sure if there's any difference between the two prior to the straps but yeah, there's like a navy, blue and red one that I would prefer to have, but well this one's good enough all right Ian, that's the end of the hike overall good bag. The only play I would have is like this couch right here, it's kind of small going hold your cell phone keys. You try and fit something inside with the with the hydration pack, like a small jacket or something besides that, let's get backpack all right"
Positive
Kinze Chhoy
youtube.com
"My gravel by core cyclocross bike only holds two water bottles and I needed for water bottles, because I was on roads where I did not have quick access to water and it works perfectly for those applications as well. The part of the pack that goes up against your back has some padding here, and it's got a little bit of a channel to allow some air flow super comfortable, packed like I said this thing's lightweight, it's point for four pounds or 0.2 kilograms, and when this Thing is empty. It feels like nothing on your back"
Positive
Clint Gibbs
youtube.com
"You can put some sunglasses or something as well and then obviously the hydration pack section. So there's your two and a half liter hydration pack reservoir that comes with the pack and that just slides right in there. There is actually a clip to hold it in i've. Just unclipped it for the purposes of the video and that just comes down the arm through little tubes and clips back closed, like that, a really simple bag couple other features is the little light clip on the bottom"
Positive
Robs Rides MTB
youtube.com
"Osprey is not the cheapest on the market but the money spent is always well worth it. First, I like that the pack feels good hanging on my back full of water. I like the zipper pocket for phone and other things. Wish the pocket were a bit taller"
"The pack itself is typical of Osprey quality. The materials and stitching are absolutely first rate, and it carry's Osprey's no-questions asked 100% guarantee. In my experience, they really do stand behind this guarantee on all their products (even very old ones). I had a duffle/travel bag years ago that broke several buckles and they sent me the latest version since the one I had was no longer in production and could not be repaired"
Positive
B Christensen
amazon.com
"And then I'm gon na fill this up with water and we're gon na go for a hike and probably see how it goes see and hopefully, we'll see how it goes all right back in there come on baby, get back in your hole. So it's all so cool about this backpack is that it does have a magnetic clip go onto here and I also like how they changed the sternum strap before it was just like a clip that clipped together this one has like little prongs. I would say like that: go in and pull so tension. It keeps it tight"
Positive
Kinze Chhoy
youtube.com
"It'S also got this really handy vertical zip, which, for a bag of this side is really good, and it means that you can keep all your stuff separated. So I've got my head torch. I'Ve got a bit of food got a bar in here. It'S really easy access and, in addition, there's a little top pocket here for keeping your phone or some valuables in"
Positive
UKClimbing
youtube.com