Osprey Aphelia Daypack - Women's
Review Analysis
Based on 32 reviews from amazon.com, youtube.com, and altitude-sports.com.
Specs
Dimensions
18 x 12 x 10 inches
Video Reviews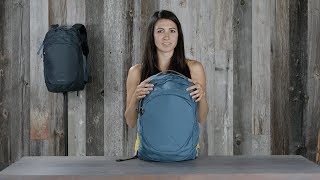 Osprey Packs | 24/7 Series: Apogee + Aphelia | Product Tour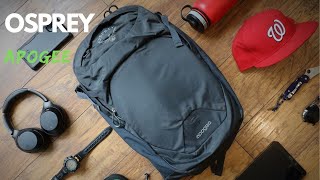 Osprey Apogee: NO FRILLS Everyday Carry Backpack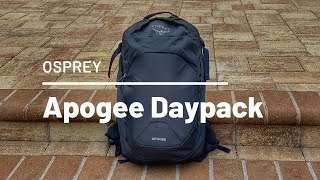 Osprey Apogee Daypack Review - Comfortable and Lightweight 28L EDC / Minimal Travel Bag
Traveling Salseros
Positive
Reddit Discussion
r/onebag • Posted by
u/GeronimoForever11
8 months ago
Osprey Aphelia or Osprey Questa - which one would you choose?
Help! I have decision fatigue (long post)
Neutral
Seeking Recommendation/Help
Reviews by Topic
Our analysis shows how reviewers feel about different topics. Please note these are not full reviews.
"It's roomy, comfortable to wear and makes heavier loads simple. It's well constructed and was a great personal item on my most recent flight. I can't say enough good things about it. It's well worth the cost!"
Positive
Cupcake74
amazon.com
"So you know this is more for stabilization. This is probably about three quarters of an inch, an inch wide piece of nylon webbing right there. So you know you put that on just to keep the bag from rocking around on you. If you're riding a bike or you're running or something like that, so let's get into the pockets in this bag"
Positive
George DEFINED
youtube.com
"I love how sleek it looks and how light it is, osprey specs it at 1.54 pounds. Which is really light taking into account the compartments including a padded one for the laptop. The laptop sits like an inch above from the bottom of the pack, which prevents it from hitting the floor"
"The chest and hip straps take the weight off from carrying the load. The top handle is great and sturdy, though I loved the one on the Flap Jill as it was a bit more cushioned but this works well. It's not waterproof but I wore it while it rained (with my umbrella, which I'm sure helped) and it stayed pretty dry, considering. The Cons: It's been mentioned, but there's a flap over the zipper for the main compartment that makes it difficult to easily zip and unzip"
"Osprey's 'what bag is best for you' website gives it an F for carrying heavy loads--i'm just a commuter, but I carry pretty heavy stuff. also the bag has a california cancer warning--maybe all osprey bags have this? but i don't see it on the amazon site so just fyi. I'm unfortunately returning."
Negative
Amazonian
amazon.com
"Great bag! Perfect size.. not way big, not too small well made. Good quality"
Positive
Maria D. Mejia
amazon.com
"This has proven to be a good middle bag for fitting everything I need for going back and forth to school. Pros: Water bottle side holders are great. I have a water bottle in one side and my umbrella in the other and they stay put even when leaning over. The sunglasses/phone pocket is fairly spacious"
"One of the key features I love about this bag is the ergonomics of it. It's curved, with a mesh backing, where your back can breathe more when you're trekking across places over a long period of time (or in the hot summer sun). The straps are thick and strong, as well as comfortable over longer durations of use. The quality of the materials is super sturdy, well-constructed, and securely stitched"
Positive
ILoveMyKids
amazon.com