Specs
Dimensions
22 x 13.5 x 9 inches
Video Reviews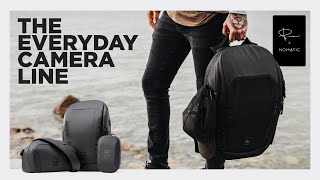 The Everyday Camera Line: Peter McKinnon X NOMATIC
The Camera Pack - Peter McKinnon X NOMATIC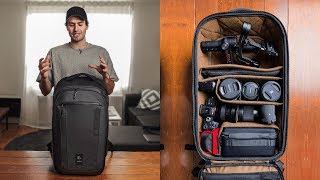 Peter McKinnon x Nomatic Camera Pack | Honest 2 Week ...
Reviews by Topic
Our analysis shows how reviewers feel about different topics. Please note these are not full reviews.
"Plenty of convenient pockets for almost anything you can find a use for. The straps help absorb the weight of a full bag on your back and shoulders. So far, no issue bringing it on as a carry-on for a flight (United or Jetblue). I do recommend checking with your airline regarding carry-on policies"
Positive
Noel V.
amazon.com
"It's extremely comfortable despite the amount of gear I'm carrying around and has a small enough form factor to maintain a discreet profile."
Positive
Reuben Rodriguez
amazon.com
"The one thing I wasn't a huge fan of at first was the zippers.  They have this extra layer of material between the teeth and the pull, which makes them kind of difficult to zip at first.  I'm guessing they added this material to make the bag more waterproof.  However, after just a few days of using it the zippers have become much more smooth, so I think they just need to "break in" a bit"
Negative
kyle rawson
amazon.com
"I feel like this bag would've been perfect if it would've been scaled down a bit. Its almost as if it wanted to do too much and therefore, was rendered useless. This bag is for the traveler bag replacement; its way too big to take around town for anything else. It made me look extra nerdy and was immediately laughed at by my wife and kid"
"I tried out a friend's bag. Took it out for a three-day expedition into the Kentucky wilderness. The bag itself holds a ton, seems super durable. Personal preference comes down to the shape (I think it's ugly) and I DESPISE the P"
Negative
Marmot Matthew
amazon.com
"I thought to myself: how can i just do this with one backpack? First and foremost, we focused on organization thoughtful compartmentalization with endlessly customizable folding dividers pack, like a pro or a hobbyist, with a separate clothing compartment to optimize packing need more space. We thought of that too. Next we focused on access. We created a system that gives you quick camera access or a full wide opening external laptop pocket and easy access pockets in order to carry all your gear in one bag we knew it would be heavy next"
Positive
NOMATIC
youtube.com
"Now. I'M just gon na go ahead and repeat the same process for the pants I'll, take this strap here, and this will keep everything nice and secure, but you'll notice that if we try to shut the bag, as is we've got quite a gap here. So what I can actually do is take the zipper right here and pull it all the way around, and what this gives us is an extra four inches or so of expandable storage. Now you can see that the bag shots with ABS, the no problem - [ Music ] - you can see - we've got a couple of extra pouches here for socks or underwear"
Positive
Daniel Schiffer
youtube.com