MYSTERY RANCH Robo Flip Pack
Reviews
Based on 56 reviews from moosejaw.com, amazon.com, youtube.com, and blogs.
Review Highlights
Great for carrying laptop, tablet, and other items
Lightweight design
Durable material
Integrated laptop and tablet sleeves
Good price
Prices
Video Reviews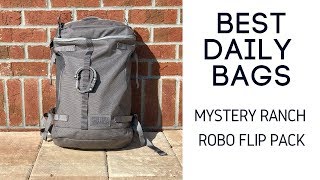 Best Daily / Tech Bags: Mystery Ranch Robo Flip Pack Review
Traveling Salseros
Positive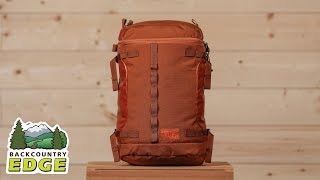 Mystery Ranch Robo Flip Day Pack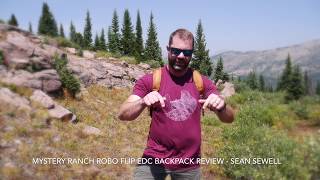 Mystery Ranch Robo Flip EDC Backpack review by Sean Sewell
Reviews by Topic
Our analysis shows how reviewers feel about different topics.
To quote Goldilocks, "This one's just right." Right size and fit. Ever so well made.
When I first opened the package I thought the bag was very small (this was before I opened up and loosened all the straps). It has all the compartments I would actually use and fits all my work needs. I usually pack a water bottle/thermos, a pair of running shoes, gym pants and shirt, my charger, and a notebook and pen. When traveling as a carryon it fit two pairs of shoes, my hygiene kit, all my electronic accessories, and I still had plenty of room
This one (vs my other 3) has the daisy chain in the front that I can attach my Heroclip and Nite Ize BugLit to, which is great. I also love love LOVE the sectioned off water bottle pocket inside. I can use it for a bottle or my Switch, which is super handy. The metal accents also give it a nice feel, and I like how the compression straps can cinch it down a smaller profile
Bought this as a laptop bag and quick travel bag. The size is perfect for my laptop and I use the bottle pocket for the charging cable. Easy to change over to a carry on and very comfortable. Great bag!!
I like a lot this pack a lot almost perfect except...It need a removable waist strap
.It need a removable waist strap. Something like 1.5inch also waterprooof zippers!!! Please thats a a given! Back could be a bit stiffer too
I'll also be using this for day hikes and travel and it'll fit the bill just right for me. If you're needing a pack for similar reasons, I can highly (very highly) recommend this quality piece of kit.
I always regretted not picking up this pack when it was still a Kletterwerks, and am so glad I finally did. It is everything as described with a classic design. I would like to see MR implement removable waist belts in the future, but this pack is not large enough to greatly benefit from it. This is a FATASTIC commuter town pack
To quote Goldilocks, "This one's just right." Right size and fit. Ever so well made.