MYSTERY RANCH 2 Day Assault Pack
Reviews
Based on 65 reviews from amazon.com, youtube.com, backcountrygear.com, and blogs.
Review Highlights
Great for a one person tarp camp setup
Plenty of room for
Milspec quality stuff
Prices
Video Reviews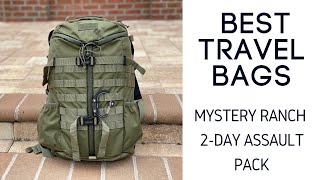 Mystery Ranch 2-Day Assault Pack Review - Comfortable and Durable 27L Tactical Travel Bag
Traveling Salseros
Positive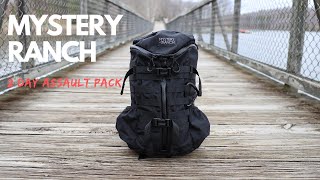 Mystery Ranch 2 Day Assault Backpack: Looking For The Best EDC!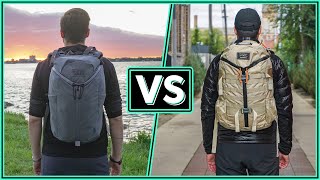 Mystery Ranch Urban Assault 24 Vs 2 Day Assault Pack Comparison (UA24 Vs 2DAP)
Pack Hacker Reviews
Positive
Reddit Discussion
r/ManyBaggers • Posted by
u/chhomchhom
4 months ago
I've come across your post and just decided to look up the bags. Boy these bags look good! But damn $250 CAD for the 2 Day Assault Pack, I want it though! Shoot! They don't ship to Canada and any of the 3rd party sellers are out of stock.
Reviews by Topic
Our analysis shows how reviewers feel about different topics.
The options for adjustments are perfect allowing me to get a great fit and seated perfectly along my back and shoulders, I hate packs that hang low because that unsettling center of gravity gets tiring after a while. On the other hand it is easy to adjust the straps on the move which is nice because if anyone has ever worn a pack for an extended period of time, then you know how nice it is to loosen, tighten, and switch to sling mode here and there to help free up spots on your back that get too hot over time because even with breathable material like that present on this pack, the bottom line is that there is still weight pushing material along your back and you will still get hot depending on how long you wear the pack. The primary harnesses are thick and comfortable, even when I loaded the pack for weight I didn't feel anything digging into my shoulders. I'm used to seeing red marks on my shoulders with other packs and this comfort is something I'm not used to
I have been using the 2DayAssault for about 60 days straight. My biggest criteria for purchasing this bag was the rear pocket zipper for the laptop. I have a 15" MacBook Pro and it fits easily in the laptop pocket with easy access from rear pocket zipper or through the top. I use the bag daily for work but I have also taken two 4day weekend trips with nothing more than the 2DayAssault
So really like the implementation here, really great, that you don't have to open the bag up fully and worry about things falling out. If you just need to grab something from the top and then if you do want to access kind of the full compartment for easier packing or to get to things that are on the bottom, you have to release the buckles, and then you can open up this Kind of duffel style opening here that gives you a nice wide view of everything that's on the inside, and so, as I mentioned a little bit earlier, this compartment has 27 liters of space, and I was very impressed with how much I was actually able to hold. Definitely enough items to take me for up to a week or two weeks of travel, depending on how minimally I want to pack, and I really liked that, even though I put a lot of stuff in here, the compartment doesn't feel like it's exploding and so jumping In the first thing that I have here is my ear dot kit. Next up, I have a smaller packing cube that has my t-shirts and socks and smaller clothing items, and then I also have a smaller pair of shoes
Positive
Traveling Salseros
As much as we'd love to, we're just not able review every piece of carry in the world. But rest assured, we've done the research (so you don't have to) to make sure this piece is awesome. For us, it ticks all the boxes of what makes great carry and we're stoked to recommend it.
I have a beefy Alienware 17" laptop with dimensions that exceed 17" and was able to easily fit it within the main section of the pack, but I think you would need a protective sleeve for your 17" laptop because despite the low weight of the pack, the netted pockets within it are quite heavy duty and somewhat abrasive. You could however fit the brick with cord in the laptop pocket unless of course you were going for battery power only.
I'm a 5'5 woman and after adjusting the straps I can carry it with ease. The MOLLE straps will make it easy to attach things that need to be within easy reach/removable (I'll probably swap my med kit into a pouch to attach versus keeping the items in the pack). And the inner pockets and pouches are all organized symmetrically in a way that makes sense, which makes it super easy to find items in a full pack.
great bag! I use it as a commuter bag to work as a construction worker and so far so good. I keep med kit, coat, lunch and random other stuff. Very comfortable and durable thus far.
I took this out on a ten mile hike over a somewhat short mountain. It performed adequately. Overall, I feel like I'm a bit large to use this pack. The straps of the waist belt aren't sewn in, just threaded through buckles, and both ends pulled free while I hiked
Neutral
William D. Colburn
I'd say it might be over 30 liters, but when I compare it to the 34L GR2, it feels smaller, which is why I stuck to 30L for my real world sizing on it.