Arc'teryx Arro 22 Travel Pack
Review Analysis
Based on 10 reviews from amazon.com, youtube.com, and blogs.
Video Reviews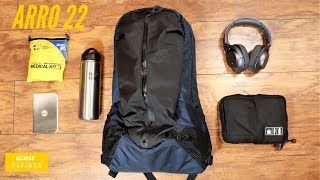 Arc'teryx Arro 22 Are Expensive Everyday Carry (EDC) Backpacks Better?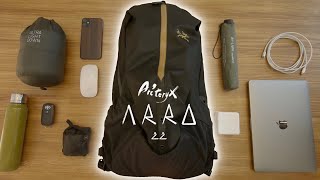 ARC'TERYX ARRO 22 / Epic Urban Backpack - Backpacking:vol.52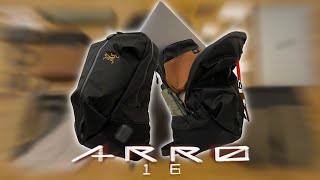 ARC'TERYX ARRO 16 / Small Version of the Epic Backpack - Backpacking:vol.82
Reviews by Topic
Our analysis shows how reviewers feel about different topics. Please note these are not full reviews.
"The way you can tell is to look at the pictures. On the central, midline zipper at the front of the pack, look at the zipper pull. If it's a textured, triangular zipper pull with an oval hole in the middle, it's the previous generation of the Arro 22. If this zipper pull instead resembles a sleek, more polished and thinner zipper pull it is the latest generation of the pack"
Positive
Josiah A
amazon.com
"The cushion itself feels pretty good, it's kind of thin actually for our 22 liter pack. I think it will be just fine for a day of use right here at the top. Our Terra concludes a grab handle and it's kind of thin and kind of small. So for my big hands, it doesn't give me the best purchase over the bag and I can only really slip in three fingers into this grab handle and if you notice it's actually offset on the top of the bag, it sits over to the right some because On the left, they have the port for your hydration, and this is a really interesting thing"
Positive
George DEFINED
youtube.com
"Let'S get into this pack, let's get to the good stuff. Let'S check out this front access pocket now all the zippers on this bag of YKK. I wouldn't expect anything less on a bag of this price and all of this, in addition to all of the zippers being YKK, they also are aqua guard zippers. So you can be ensure that no water will get into this bag if you caught it in the rain"
Positive
George DEFINED
youtube.com
"Let'S get into this main compartment and let's check it out again, aqua guard zippers. All the way around. Our Terry includes these big YKK zippers right here, and I think these are number eight zippers they're not number ten again in this main compartment is very limited organization. But let's check out what I put in here, I got my little adventure medical kit right here for one person and I also stuck in my headphones"
Positive
George DEFINED
youtube.com
"The two adjustable backpack straps are super padded to make these really comfortable. Plus you get one strap that goes across the chest and another that goes across the waist, so you can get a supportive carry Also back here. You have the hydration tube port that can be snapped closed when it's not in use and a little holder for your mouthpiece on the strap. Now we're taking a look at the main compartment At the back here"
Positive
Shop Zappos
youtube.com
"I believe the only real difference between these two generations is that the newest generation has a mesh sleeve for laptops, whereas the previous generation has a sleeve that is only big enough for a water bladder. Best regards!"
Positive
Josiah A
amazon.com
"You do have some load lifters, so you can pull them and take the weight of the bag and bring it closer to your back on the shoulder, strap. You do have a spot where you can run down your hydration bladder hose and attach it to the shoulder strap itself. It does come with a sternum strap, which is on a ladder system. This is an odd type of ladder system"
Positive
George DEFINED
youtube.com
"Hey, what's going on, My name is Joe. We're taking a closer look at the Arro 22 from Arc'teryx Arc'teryx's bag can walk across campus or up the trail. A lot of great options on this stretch pocket there and then another pocket on the side with an easy access pocket right here in the middle, which can store a ton of stuff Check out the contoured shoulder straps could have a nice thick cushion into them. Stubbed strap and, of course, everything is going to be fully adjustable, there's even a way strapped Inside the main compartment"
Positive
Shop Zappos
youtube.com