5.11 72
Review Analysis
Based on 58 reviews from amazon.com, 511tactical.com, walmart.com, and youtube.com.
Specs
Dimensions
23 x 13.5 x 8.5 inches
Video Reviews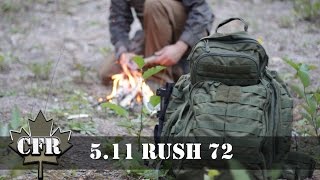 5.11 Tactical - Rush 72 Review
Canadian Firearms Review
Positive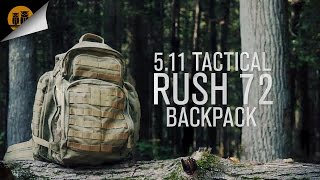 5.11 Tactical Rush 72 • Tactical Backpack • Field Review
Black Owl Outdoors
Positive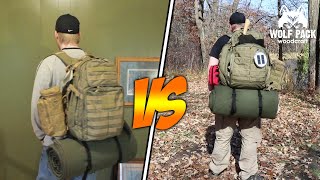 5:11 Tactical Rush 24 Vs Rush 72 Backpacks
Wolf Pack Woodcraft
Positive
Reviews by Topic
Our analysis shows how reviewers feel about different topics. Please note these are not full reviews.
"First, this bag is big! It can hold just about anything you can throw in it. I'm 5'5", 125 lbs and it does look a little silly on me because it's so big, but I have no problems carrying it, it doesn't impede my movement at all. My fiance, however, is 6'1" and 190 and it fits him a lot better, although it still looks like what it is: a large backpack. It has tons of pockets all over; zippered, velcro, mesh, etc"
Positive
Shannon
walmart.com
"[This review was collected as part of a promotion.] I am a deer hunter and this pack is for separating my stuff such as binoculars, range finder, knives, gps, ammo, first aid kit, food and water and anything else I need on my hunts. Pack also carries well on my back fully loaded. Price is also wonderful for so much versatility"
Positive
Clyde C
walmart.com
"They took everything all the organization out of this bag, not understanding it's what operators are looking. They did this to save on the cost of materials for a larger profit margin, which shows they care more about the bottom line, then what the customer is looking for. I won't buy this brand again in the future."
Negative
Thomas E.
511tactical.com
"The shoulder straps are so badly designed I cannot imagine 511 sells this backpack. Let me explain, they are designed in a way that the backpack is hanging from my shoulders so low that the lower part of the backpack is rubbing on my lower back. When I pull the straps so I can tighten them so I can lift it , it gets uncomfortable."
Negative
John
511tactical.com
"- Extremely well built zippers. I pulled on them until my fingers were white yet they showed no sign of giving. Smooth (not silent) zipping.- Comfortable back panel"
"If you want a large backpack that is easy to carry around, and not too flashy, this is perfect choice i think"
Positive
Jang Suk Hyun
amazon.com
"Just upgraded my rush 1.0 to this new rush 2.0 and love the new laptop padded internal pouch! Now I don't have to worry about my computer."
Positive
John McGovern
amazon.com
"Your food equipment, food, prep everything you need for a three-day adventure now we're just out here kind of testing it out doing a little bit of hiking building fires just doing a little bit of bushcraft stuff just for fun test it out, and it's great because I've Been able to fit everything I really need in this bag. I don't think I'm really lacking anything. I'Ve got my shelter covered. My water covered cooking supplies, cutting everything that I need to live out here for three days"
Positive
Canadian Firearms Review
youtube.com